Episodes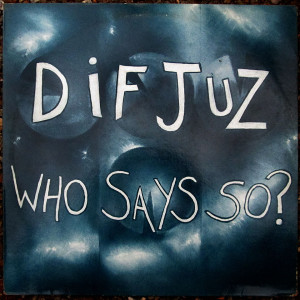 Friday Jun 28, 2013
Friday Jun 28, 2013
We herewith induct Dif Juz into the Bombast Hall of Legends, where they join The Fall, Stereolab, Billy Childish, Coil, and Prince Far I. Tonight's special program is a confluence of two things--it's the first induction of a living artist since before I got the idea for "Physical Evidence," and it's the first time I got the huevos to interview somebody. Needless to say, we raise the bar with this episode.

True confession: I was in a band once. I think my partner would agree that we had more ideas than skill. But we of course made tapes, and of course sent them off to record labels we happened to like. One of these was 4AD.

It took forever, it seemed, for us to hear back. The answer, from all quarters, was "no." College ended, we went our separate ways (we're still friends), I stopped deejaying so that I could travel the path to academic disgrace, and I didn't have occasion to communicate with a record label for over 20 years.

Fast forward to 2013. I have this fledgling radio program on a small station, with a weekly feature called "Physical Evidence" [explained here]. I'm itching to play "Who Says So," by Dif Juz, on the feature, but I have a small problem. In 26 years of hearing the band's music I have never actually known how to pronounce their name.

At first, back in the day, I thought "Juz" was pronounced a bit like "jugs," but then talked myself out of that because it didn't make sense. "It has to sound like 'diffuse,'" I concluded--wrongly, as it turns out.

Anyway, wanting to minimize the amount of time I spend sounding foolish on air, it just struck me that I could ask the question and maybe get the correct answer. This is actually a hard thing for me to do, being naturally quite introverted. I am much more inclined to do third-party research, and had there been a definitive answer on the internet, or a YouTube interview or something, this exact program never would have happened.*

But of course no such answer is available. So one day I just said "fuck it" and wrote to 4AD, thinking, "the worst thing that can happen is that they don't forward this and don't write back," but also, "if any band member gets in touch with me I'm going to turn this into a full-blown thing." Within a couple of hours Gary Bromley wrote back, and everything proceeded from there.

I'll say more about the actual interviews when I post them, but both Gary and Richie were very gracious and funny, and extremely generous with their time, and I'm grateful for that. Gary really opened up to me about his personal issues during the last days of the band, and Richie provided some exclusive pieces of music. So this is a special, special program. I don't know how I'm going to top it.

Anyway, the music--as I say on the program, I didn't hear Dif Juz until the very end, maybe even after the fact. [Apparently it's an anniversary of sorts--it was right around this time, in 1987, that the "Lonely Is An Eyesore" comp was released.] I was compelled to go backwards in time through the band's catalogue and have been hooked ever since.

There's a wealth of great music "on display" in the program, plenty more that I didn't have time to play, and still more in the band's possession [and in the 4AD vault] waiting to be heard. As Richie Thomas says, you let the music speak for itself, so I'm pretty much going to do that here with the records I have. I can't make a better case than the musicians do themselves.

I will soon post links to the full interviews with Gary and Richie--I was able to use only a fraction of what they gave me, and there's a surplus of good stuff. But I've got to get those files sounding a little better, which will take a bit of time.

BOMBAST playlist, 2013 June 26, 2100-2300:

all songs by Dif Juz; format = "Title" [Record, Label]
"HU" [Huremics, 4AD]
"RE" [Huremics, 4AD]
"Soarn" [Vibrating Air, 4AD]
"Gunet" [Vibrating Air, 4AD]
"Roy's Tray" [Who Says So?, Red Flame]
"So Shy" [Who Says So?, Red Flame]
"Song With No Name" [Who Says So?, Red Flame]
"Tabla Piece" [Who Says So?, Red Flame]
"SWNN Part 2" [Who Says So?, Red Flame]
"Pass It On Charlie" [Who Says So?, Red Flame]
"Channel" [Who Says So?, Red Flame]
"The Dub Song" [Who Says So?, Red Flame]
"Twin and Earth" [Extractions, 4AD]
"Two Fine Days (And a Thunderstorm)" [Extractions, 4AD]
"The Good the Bad the Ugly ('Heset' detail)" [Time Clock Turn Back, Pleasantly Surprised--underscoring interview]
"No Motion" [Lonely Is An Eyesore compilation, 4AD]
"Trance" [Time Clock Turn Back, Pleasantly Surprised--underscoring interview]
"The Dub Song" [unreleased live recording]
"'Rainbow' Theme / HU" [unreleased live recording]
next time--the inevitable letdown of a "regular" Bombast. Enjoy this music. I mean it. --kid catharsis

* Dif Juz are an awesome band and worthy Hall of Legends inductees but there isn't that much of their music available. Even Richie Thomas was surprised I was devoting two hours to it.

Also: full Gary Bromley interview available here, and full Richie Thomas interview here.
Comments
(1)
To leave or reply to comments, please download free Podbean or
This is amazing - thanks so much! It's great to finally have some more information on this brilliant band & hope that 4AD or someone else releases all their rare unreleased songs.